Learn how to join the St Ives Society of Artists as a member and more about our process of selection below….
About Us
The St Ives Society of Artists is a vibrant group of Cornish artists exhibiting and collaborating in the Mariners Gallery, St Ives. Showcasing a range of work from abstract to figurative, sculpture and ceramics, the Society currently hosts around 6 exhibitions a year, as well as renting out the Crypt Gallery – a space below the main exhibition which may be rented to hold solo or group shows.
Formed by members of the St Ives Arts Club in 1927 and led by George Fagan Bradshaw and Herbert Truman, the Society was established to further the interests and promote the work of the many artists living in the St Ives area. Previous exhibitors in the Society have included Dame Barbara Hepworth, Peter Lanyon, Naum Gabo, Borlase Smart, Wilhelmina Barns-Graham and Patrick Heron.
The Society caps its membership number at 80 artists which means there may not be a membership application every year.
Benefits of Membership
Become part of a supportive artist community in the heart of St Ives with a range of benefits including:
Three wall hanging spaces for each members exhibition in the Mariners Gallery
Access to display space for unframed artwork and artists greeting cards
Priority booking for the Crypt Gallery, a separate gallery space located below the Society
Artists page with personal profile and work examples on our website
Membership Criteria
To apply for membership to the Society you must be a practicing artist living or working in Cornwall. An exception may be made if you live outside Cornwall if you can show the panel that you are able to meet the requirements of supplying work and contributing to the Society from your home location.
You must have a practice that allows you to supply work to our 4 members shows each year
If you are elected by the Directors to the Society, membership is priced at £55 per annum. Subs are due after the February Annual General Meeting (AGM) each year and you will be contacted by the Gallery Manager with details of how to pay.
New members are subject to a three-year probationary period to ensure that they are meeting the expected standard required by the Society.
To help the Society maintain our Grade-II listed building, members are requested to take part in a donated event each September to coincide with the St Ives September Festival. You will be supplied with a canvas and we ask that members create a small piece of work on this and all proceeds from the sale of the artwork will go towards the fund for restoration work.
How to Apply
If the Society decides to hold a membership process, the office will update everyone on our mailing list.
Prospective members will be asked to bring a minimum of 4 and maximum of 6 pieces of artwork, sculpture or ceramics to the Mariners Gallery on a specified date with a filled in copy of the application form and an artists CV. This process is usually held during the second week of January.
The work should be a good representation of your usual artistic output and can include framed or unframed pieces. The gallery team will allocate a space for you to present your work. You will be asked to leave your work in the gallery for the week while our panel make their decision. The gallery will be closed during the assessment week so the panel of directors can view the work.
Work can be collected from the gallery once the final decision has been made and all applicants have been informed.
If you are interested in becoming a member then please join our mailing list and keep an eye out for announcements in November each year!
Take a look around the work submitted for our Members' Spring Show this year. From oil and acrylic painting to ceramics, sculpture and jewellery, we think the gallery is worth a visit!
Monday – Saturday (10am – 5pm)
11th February – 21st April 2023
The exhibition continues in the gallery including other framed work, unframed pieces, ceramics and jewellery.
We hope you can join us!
Meet our wonderful gallery team! When you drop into the Society, one of these friendly faces should be at the front desk or working away at the computer in the office. 
AMANDA WALSH – GALLERY MANAGER
Amanda joined the Society in September 2022 as Gallery Manager. With a law degree from the University of York, Amanda worked in finance in Oxfordshire before moving to St Ives in 2020 to join the School of Painting team working in Marketing, HR and Finance.
MARIE KEELING – GALLERY ASSISTANT
Marie is a local artist and Member of the St Ives Society. Originally from Manchester, she moved to St Ives over 20 years ago and has helped historic organisations all over the town, including the Print Works on Back Road East and the St Ives Arts Club.
JAMES BARRY – GALLERY ASSISTANT
James has been attached to St Ives for over 20 years and has worked in the School of Painting, the Belgrave Gallery and the New Craftsman Gallery. He also has his own ceramic sculpture practice and loves to run marathons in his spare time.
The St Ives Society of Artists, formed in 1927, is a group of around 80 artists with links to Cornwall who regularly show work together in the Mariners' Gallery on Norway Square.
In the 19th century fishing was the business of the town. The working harbour was busy with boats catching mackerel, pilchards and herring. Between 1829 and 1838 St Ives supplied the Italian market with six thousand four hundred hogsheads of pilchards annually.
By the 1880s the industry was in decline as the great shoals of silver no longer appeared on the coastline. With the emptying of the pilchard palaces and net-lofts, a new type of tenant took residence in the town: artists searching for light, inspiration and studios.
Artists had been visiting St Ives for many years. Turner had been twice, John Brett and Henry Moore were both regular visitors, and the arrival of the railway made transportation of large artworks created in the town possible for London exhibitions.
With a mild climate, variety of coastal geography and southern-balanced daylight hours, the area soon entranced other artists including Tolamache, Whistler, Sickert and Stanhope Forbes to paint the heaving seas around the peninsular. Between the 1880's and 1920's saw the opening of the first gallery in St Ives, the founding of the St Ives Arts Club as a hub for artists to mix, the first school of painting and the arrival of potters Bernard Leach and Shoji Hamada.
On 26th January 1927, marine artist Commander George Fagan Bradshaw proposed the foundation of a society of raise standards of the artist colony. Starting off in Lanham's Gallery and Julius Olsson's studio in Back Road West, in 1945 the Society eventually settled in the Mariners' Church which had fallen into disrepair over the years and was requisitioned as a field hospital during the Second World War.
Over the years, the Society attracted membership of many Royal Academicians including: Stanhope Forbes, Lamorna Birch, Julius Olsson, Adrian Stokes and Sir Stanley Spencer.
The turmoil of the Second World War also brought down a new wave of artists seeking safety and inspiration. These included sculptor Dame Barbara Hepworth, her husband Ben Nicholson and their triplet children, along with Peter Lanyon, Patrick Heron, Sven Berlin, Naum Gabo and the young Wilhelmina Barns-Graham. They become members of the Society in short order and the town was soon alight with discussions of Cubism, Futurism, Constructivism, naiveté and marine artwork.
The new members brought to St Ives some of the most avant-garde and forward-thinking experimental work produced in Britain during this period. For some of the old guard within the Society, this work was a step too far and, after encountering resistance to their cause, the group began to exhibit their work in the Crypt of the Society building. Without the calming presence of Borlase Smart, who had died a year earlier, the Society split. Nicholson, Hepworth, Lanyon and their group set up the Penwith Society of Arts which remains today and can be found on Back Road East, just 100 yards from the Mariners' Gallery.
Over the following years, the Society experienced a dip in popularity as tastes changed in favour of the abstract and the original members aged. In 1990, the Crypt space, which had been used for 40-years by the St Ives Operatic Society, was vacated and transformed into an exhibition space once more for artists. The Mariners' Gallery decided to hold diversified exhibitions with both traditional and contemporary work to appeal to all visitors. This, coupled with the arrival of the Tate St Ives, rejuvenated the Society and its members.
Over our nearly 100 year history, the Society has seen wars of man and artist, changes of taste and leadership, success and failure. All of these events have led to the thriving group of exciting artists we currently call our Members and to the successful gallery we are so privileged to enjoy in the Mariners' Church.
It's been a busy few weeks in the Society and December still has much more to offer us all!
We started the month with our annual Christmas Open Exhibition – an event which this year attracted over 300 artworks, ceramic and sculpture submissions. The curatorial team had a big job to choose which pieces made it onto the walls and we would like to thank everyone who took part and entered work. With the whole gallery hung floor to ceiling, they managed to find a place for 264 artworks!
The first weekend of the exhibition was marked by our Private View event. Many of you ventured out in the wind and rain to join us and made it a wonderful afternoon of mulled wine, mince pies and music. We loved seeing you all and hope you had fun.
The gallery is open 11-4pm (closed Sunday) for anyone who hasn't been able to drop in yet and view the exhibition. Our Christmas opening times can be found further down this newsletter.
The date for collection of work shown in the Christmas Open is Monday 2nd January 2023. If your pieces were selected, please make sure you attend the gallery on this day as we close for maintenance work after this. If you are unable to make that date, please let the office know in advance.
The Society is very pleased to be opening applications for new members in 2023. The pack with information on how to apply can be found here: New Member Application. Please bring your work to the Mariners' Gallery on Monday 9th January 2023 to be considered – we wish you the best of luck if you choose to apply!
This month in the Crypt Gallery we have an exhibition of work from Marie Keeling and invited friends, including Peter Giles, Zoe Eaton, Laurent Sykes and Glyn Walton. If you are waiting with anticipation for Marie's annual tabletop sale then she has dedicated a small area of the Crypt to this already.
The tabletop sale will begin in the Crypt on the 20th January 2023 – any donations of clothes, shoes, furniture, books or other items will be gratefully received and funds raised go towards work on the Mariners' Church building. Please speak to Marie Keeling for more information.
Wishing you all a very Merry Christmas and a happy New Year!
The home of the St Ives Society of Artists can be found in the Downalong area of St Ives town. A labyrinth of narrow cobbled streets and alleyways lined by granite cottages, the old town area radiates from the working harbour which has appeared in countless paintings and photographs. The Mariners' Church forms a majestic foil to the jumble of smaller buildings and the imposing roof can be seen from almost every vantage point.
St Ives in the 19th century was a vibrant hub of fishing, most of which was exported to the Continent to meet demand for sardines, mackerel and herring. The townspeople lived from fishing but their community life revolved around religion and, in particular, the churches and chapels in the area.
During the mid-1800's the Anglians leased an old loft, known as 'The Long Run' which served as a Church Infant Schoolroom and then in 1867 became the School Chapel. By 1892, the Anglican vicar of St Ives Cannon John Balmer Jones MA, proposed that a new church be built for fishermen in the town. It was only after his death in 1901 that the funds were finally raised to make his dream a reality.
The site containing the Chapel was officially purchased in 1903 and Plymouth architect Edmund Sedding was commissioned to create an imposing gothic building to strengthen faith and congregation numbers. The building was never finished. Visitors today may notice that the niches stand empty of their intended saints and the bell tower never got its spire.
In 1905, the Bishop of Truro dedicated the building to St. Nicholas, the patron saint of fishermen and children. Despite the church being designed to accommodate 270 parishioners, only 100 attended the opening. Fishing families were largely non-conformists and the town already had many Christian factions. The Anglican Church faced particular difficulties in winning people over following an age-old dispute about the Church levying tithes on fish landed in the harbour.
By the 1940's, the demise of the pilchard industry and the tragedy of the First World War taking its toll of young men, meant that the church fell into disuse and disrepair. During the Second World War, Smeaton's Pier was used as a disembarkation point for the home and allied troops for deployment to Europe. The Mariners' Church was requisitioned as a field hospital and used by the St John Ambulance Brigade and the Red Cross.
In 1945, once the war had ended, the building became the new permanent home of the St Ives Society of Artists and we have been here ever since. The Society is committed to protecting and ensuring the maintenance of the Mariners' Church for generations to come. In modern times, this has included having a new roof fitted in 2016, a new lighting system and yearly painting and decorating to keep the gallery looking its best.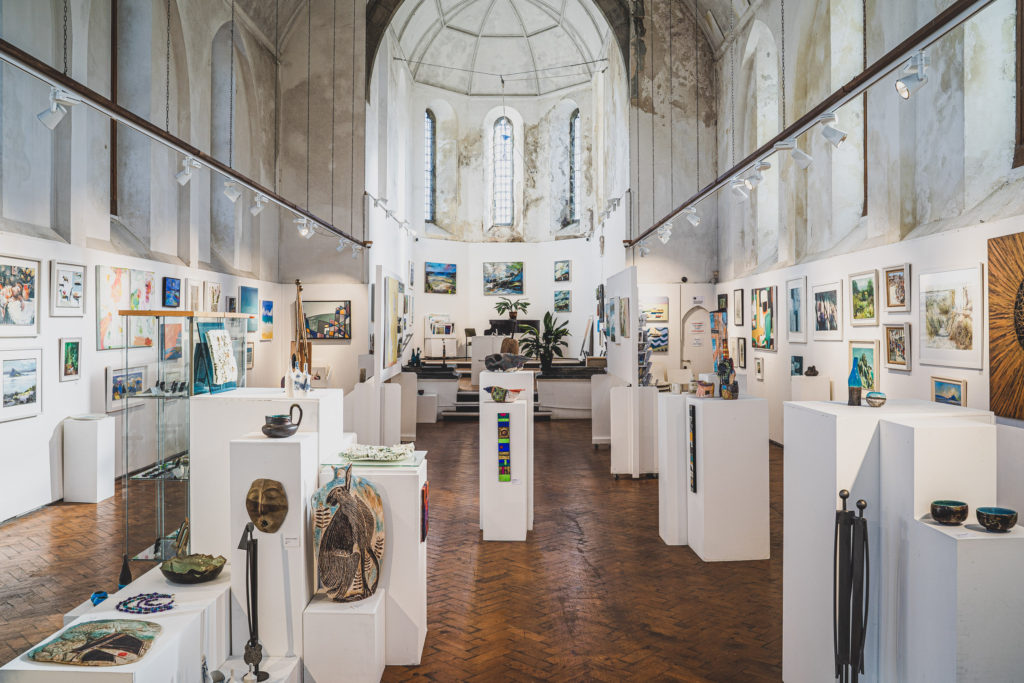 The Society was very excited to once again hold applications for new members in 2023 this January.
Sam Reese is an artist and teacher who splits his time between St Ives and Manchester. As well as being a new member to the Society, his abstract relief work will be on show in a joint exhibition in our Crypt Gallery this April.
Mary Scott is a former geologist who carries her previous profession into beautiful abstract landscapes. Based in the St Ives area, she layers paint and glazes before scraping and sanding back to uncover what lies beneath.
Frederick George Davis is a contemporary artist based in Devon. His colourful abstract artworks utilize everything from paint to textiles and create layered, vibrant pieces. Frederick exhibits both nationally and internationally.
Francesca Owen is a Slade School of Fine Art educated contemporary painter. Deeply inspired by Impressionism, her masterful brushwork captures the romance of the figure and nature.
Hilary Jean Gibson is a Saint Martin's School of Art trained artist and illustrator. She has exhibited her work widely including at the Royal Academy Summer Exhibitions and the Mall Galleries in London. Hilary has been a tutor and feature on the St Ives art scene for many years and we are thrilled to have her join us at the Society.
Lucy Joines is a Falmouth College of Arts graduate in Ceramics and learnt to throw pottery in Japan in the 1990s. She is inspired by Japanese ceramics and her upbringing on a North Devon farm, as well as a love of nature and wildlife. After 16 years as an art and ceramics teacher, Lucy is now focusing on her own practice and we can't wait for you to see her work in the gallery.
Jenny Shaw-Browne is a St Ives based painter who uses her degree in Archeology and Ancient History to capture landscapes, cityscapes and landmarks. Her interest in archaeological illustration and artefact drawing translates into vibrant and captivating oil paintings. Jenny has exhibited her work at the Society previously in Open Exhibitions and we are so glad to have her join us!
Corinne Detain is a Krowji-studios based mixed-media artist with training from Falmouth College of Art, Cornwall College and Plymouth University. Corinne works in mixed media, stitch, collage, acrylic, printing to create works that consist of many layers, covering and washing back, using many layers to create a feeling of history and evoke a sense of calm.
Sarah Binney is a St Ives-based jewellery designer exploring pieces made from reclaimed bronze, silver, sea glass and beach-reclaimed plastics. Her work includes abstract pieces, sea shells and leaves. 
Michael Lawes is a a Cornish-based contemporary artist specializing in bright geometric work. Influenced by Pop Art, Andy Warhol and Roy Lichtenstein as well as the colour, shape and forms of the 1960s art scene, Michael is an exciting new addition to the Society.
Michele Cowmeadow is a hugely talented Cornish ceramicist who is deeply inspired by ancient Roman and Greek pottery. Her work spans from plaques to plates with each piece drawing on myth, poetry, mosaics and ancient relics of a long-gone world. Regular visitors to the gallery might recognize Michele's work from our Open exhibitions over the years!
We are also thrilled to announce that renowned St Ives artist John Emanuel will be joining our cohort as an honorary member. John has been a presence on the Cornish art scene for over 50 years, producing work from his space in the historic Porthmeor Studios. We are delighted to have him on board and you can view one of his pieces in our Spring Members' Show opening tomorrow.
St Ives is a center for arts and history in England. Within the town are numerous points of interest – from museums, gardens, schools and workshops, visitors can explore the artists community and learn about the fishing town which evolved in the 20th Century to become a leader in the modernist art movement.
THE TATE, ST IVES
Tate St Ives is an art gallery located in St Ives, Cornwall, UK. It is a branch of the Tate gallery network and, in addition to its exhibition space, it also includes a cafe and a shop. Tate St Ives was originally opened in 1993 in a former gasworks building, but in 2017 it was expanded with a new building designed by Jamie Fobert Architects. Tate St Ives focuses on modern and contemporary art, particularly works by artists who have lived and worked in Cornwall, such as Barbara Hepworth and Ben Nicholson. The gallery also hosts temporary exhibitions and special events throughout the year.
THE BARBARA HEPWORTH MUSEUM & SCULPTURE GARDEN
The Barbara Hepworth Museum and Sculpture Garden is dedicated to the works of British sculptor Barbara Hepworth. The museum includes Hepworth's former studio, which has been preserved as it was when she worked there, as well as a large collection of her sculptures, drawings, and other works. The sculpture garden features many of Hepworth's most famous works, including bronze, marble, and stone sculptures, as well as several plants and flowers that she used as inspiration for her art. The museum and sculpture garden provide a unique insight into the life and work of this important artist..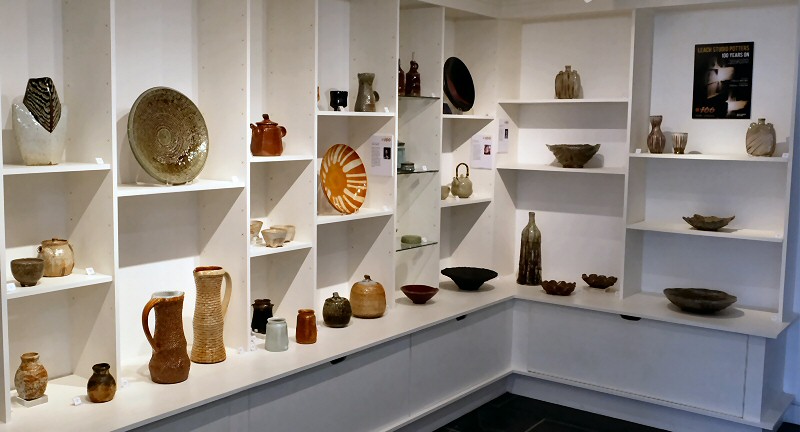 THE LEACH POTTERY
Leach Pottery is a famous pottery studio located in the beautiful coastal town of St Ives. It was founded by Bernard Leach, who was a pioneering figure in the development of British studio pottery in the early 20th century.
The Leach Pottery has been in operation since 1920 and remains one of the most important and influential pottery studios in the world, famous for its handmade ceramics, traditional glazing techniques and unique designs.
Visitors to the Leach Pottery can enjoy a range of activities, including pottery workshops. The studio is also home to a number of resident potters who continue the legacy of Bernard Leach by creating beautiful and innovative ceramics.
ST IVES SCHOOL OF PAINTING
The St Ives School of Painting is a community of artists that originated in St Ives, Cornwall, United Kingdom. It was founded in 1938 by Borlase Smart, Leonard Fuller, and Bernard Leach, who sought to create a space for artists to study and work together in a supportive and collaborative environment.
Today, the St Ives School of Painting continues to offer courses and workshops for artists of all levels, as well as hosting exhibitions, talks, and events.
PORTHMEOR STUDIOS
The Porthmeor Studios in St Ives, Cornwall are probably the oldest and most iconic artists' studios in the country. The studios have hosted some of the most illustrious artists working in Britain, and the recent capital renovations won universal acclaim and several awards. Originally built in the early 1800s for the pilchard fishery, its cellars still clearly show how this industry worked, and the building was listed Grade II in 2005 because of this evidence. Fishermen still use the cellars for storing and repairing their gear, and for setting nets.
Porthmeor is best known for the incredible number of internationally important artists who have worked here, including Julius Olsson, Frances Hodgkins, Ben Nicholson, Patrick Heron, Francis Bacon and Wilhelmina Barns-Graham. The building current hosts 15 resident artists.